Featured: Pimmy, Roi Et, 18 years old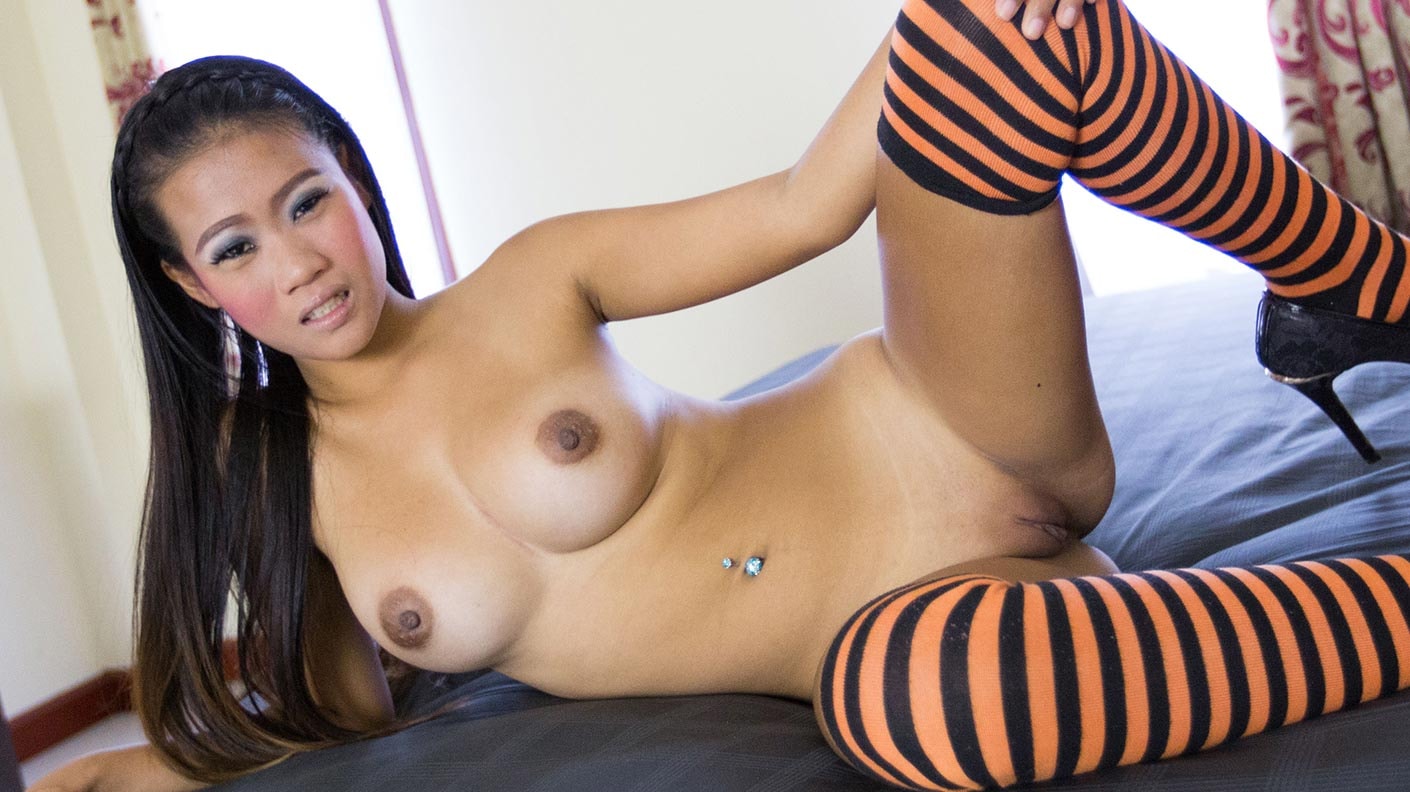 "How do you like them titties?" a raspy voice reeking of stale lemons and gin said next to me. "She sure has the nicest pair of knockers in this joint" he murmured again. At that point I decided to buy young Pimmy a drink. I figured if she was good enough for the local sexpat, then she'd be good enough for me. When Pimmy arrived at my seat, her boobs looked even bigger than on stage. She smiled and displayed her crooked teeth, but I was only focused on the 100% all natural breasts that were resting in the palm of my hands. Yea I don't mess around. I grab handfuls of flesh before I start the introductions. It's the bar life and my drink order awards me boob play and I'm gonna get every minute of action I can before that expensive beverage is gone. Pimmy on the other hand didn't seem to care at all. She was comfortable with middle aged men groping her big luscious melons each and every night. At least I wasn't squeezing too hard, she thought. After some small talk I decided to take Pimmy out of the GoGo bar for some afternoon fun. This joint is notorious for dishing out condom-free princesses. So I was certain that my experience would be bareback heaven with the intention of planting my load nice and deep inside Pimmy's tummy. And I was dead on as my cock was plowing into Pimmy's young innocent cunt completely raw. My hard thrusts slammed into her while she groaned with pleasure. This is one of the hottest fucks I've had in awhile, I thought to myself. My head was racing as her globes bounced each time I slammed my cock into her. The sight of those juicy jelly-like mounds convulsing on her chest was enough to send me over the edge. My movement came to a sudden stop as I my cock erupted and flooded Pimmy's young pussy with active sperm swimming eagerly to her egg. How do I like those titties? Fine Sir, just fine!
Recent Updates
Pimmy

Big natural boobed Pimmy is all innocent looking when my jizz pours from her pussy

Kaeo

Finding the perfect girl, bar fine her, and bringing her home to creampie her

Armmy

Cute 18 yr old teen with perfect brown bubble but receives my hot creamy load deep inside her

Balloon

Super hot teen girl is fucked without a condom and receives a big load of jizz inside her pussy.

Phueng

Phueng is the hottest little twat I've banged in awhile. Watch me inseminate her tiny box.

Min

Shopping for a new phone case, I found the lovely Min from 8 years ago.

Dara

Hot Thai gogo dancer gives me the ride of my life and drips my creampie afterwards.

Lalana

Sexy new Gogo dancer is fucked barebacked and filled with hot sticky cum

Chaisee

Young Thai girl following me to the coffee shop gets a ride back to my creampie crib

Dusadi

Big tittied Dusadi reveals her round globes before receiving my hot spunk inside her cunt

Ratanaporn

19 year old Soi Six teen has her lovely pussy filled with jets of hot warm semen

Chantana

Beautiful Thai woman with braces gives me one hell of a ride to creampieland.

Vios

New 19 year old Thai teen cutie with braces visits my room for a bareback fuck with a wonderful creampie.

Thang

Sweet little nymph named Thang is all sex and no bullshit. She let me fill her shaved pussy with all my cum.

Maleen

Late afternoon bar fine leads to a sweet ass GoGo dancer getting creampied before sunset.

Phloi

Young attractive Thai girl is fucked bareback and filled with hot semen in a nearby short time room

Phan

Local bar girl and professional creampie fan gives me a wonderful fuck and leaves with semen dripping from her pussy

Jasmine

Spinner princess Jasmine is back for another creampie episode. Watch me plow my cock deep inside her.
Get Instant Access!

Join Now To Start Watching the Full Length Videos